Video Conferencing
Telepresence
Audio Conferencing
Multimedia



Gateway and Multipoint Bridging Video Conferencing Services
IVC offers Gateway and Multipoint Services. So if you are hosting a video conference and need to host multiple sites, or connect sites with different networks then we can provide these services.
Gateway:
We are able to connect two sites with different network or protocol types. So if one site has ISDN and the other has IP, we are able to translate and connect both sites seamlessly.

Multipoint Bridging:
If you need to host a conference call with multiple sites and do not have the equipment to do it yourself, or if some of the sites are ISDN and others are IP, we are able to connect them and host the multipoint call.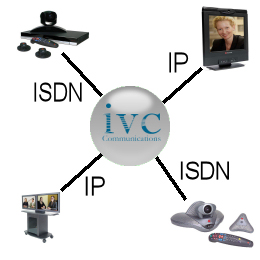 HD:
And yes, we can provide these services for HD conferences!
And we can manage and monitor all of these services. Please
contact us
for more information.